Hearth Oven Log
Here you will find my thoughts and ramblings about building and using a wood fired hearth oven.
---
2005-10-29
Welding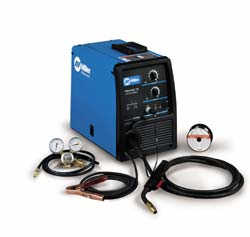 Since I want to build an oven on a trailer, I either need to find someone to do all of my welding, or I need to do the welding myself. I have decided that I would tackle the welding.

During the first part of this year I took a welding course from the local vocational college. I learned how to weld with both stick (SMAW) and MIG (GMAW) processes. I did manage to get one welding certification during the class, and over all I feel pretty good about welding projects.

I needed a welder to go with the Oxy-Acetylene torch that I currently have. Thanks to my dear wife I now have a MillerMatic 135 MIG welder. I now just need to setup in the garage for it. I will probably need to install a 20 amp 115 V wall plug. Other than that, things should setup pretty quickly.

Next step will be to design and weld the base and pan for the oven.
2004-12-16
Thermometer Ordered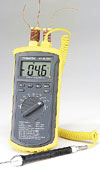 I have selected and ordered a thermocouple thermometer for my oven. It is a 4-Channel Type-K thermometer with backlit display from Omega Engineering.

It seems like a good value and would allow me to use two sensors for the hearth floor and two sensors for the oven dome. One sensor would be placed an inch below the surface and the other would be placed between the insulation and concrete for the hearth. The other two sensors would be place in the dome.

With a temperature range of up to 1999° F, I think that this should cover what temperatures that the oven will ever see.
2004-12-14
Oven Sizing
I want to build a fairly large oven, so I think that I will work with plans for a 42 inch diameter oven. The plans from the Forno Bravo web site give a stand size of 72 inches wide by 86 inches long. Using 48" x 120" steel, I would need two sheets. I would cut four pieces to build the pan. Two pieces 36" x 86" and two pieces 5" by 72". This would give me a pan 72" x 86" x 5" with a seam running down the center line. My rough guess is that this pan, on its own, would weigh about 135 lbs.
2004-12-09
Sheet Metal
I called one company that is a metal supplier. A full sheet of 16 gauge ungalvanized sheet metal is 4 ft by 10 ft. I would need two sheets to build the pan for the oven.
2004-12-08
New Family Recipe
Last night Tina made a spinach artichoke dip for part of dinner. I thought it was out of this world and would be a wonderful pizza or pasta night recipe. I will see if I can get the recipe added to the recipe database soon.